It's been quite some time since my last open source release, but since people actually liked my GitHub inspired WordPress theme it's time for another theme. Since I'm still not into naming things, it's simply called Ghoststa.
Like Gitsta, but for Ghost
My new theme is basically the same as my previous one. It looks like the GitHub blog. But this time it's not for WordPress, but - my first one! - for Ghost. You can find it on GitHub!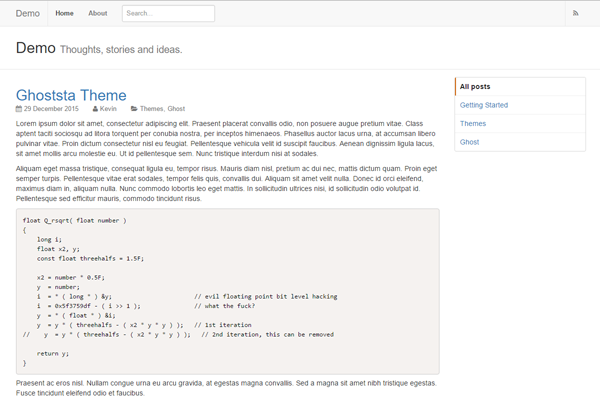 Screenshots aren't that amazing - so have a look at the demo!
As well as its "sister theme" it's completely responsive. Also it has some extraordinary features, like an out-of-the-box search engine, tag/author/recent post lists and some more.
Other than gitsta this theme uses a more state-of-the-art way of development and utilises tools like Bower, to manage front-end dependencies or my beloved Grunt for task automation. It's likely that I'll re-work gitsta in the near future to be done the same way...
Nevertheless, I hope you like the theme (and maybe even give it a star on GitHub). See it as my late christmas present. Along these lines: Happy New Year!